At our general store and sandwich shop in Bennington, VT, we offer a large assortment of quality goods. Stop in and check out everything we have in stock and we guarantee you'll find something you'll be proud to put in your house or give as a gift to your friend or family member. We stand behind our quality goods and services. We'll help you find exactly what you're looking for the second you walk through the door!
Products We Stock
Bringing You Vermont LLC is not just your general store in Bennington, Woodford, Paper Mill Village, or Hoosick, VT. We specialize in a wide variety of products and take pride in the work we do. We take craftsmanship and long-lasting relationships with our customers very seriously, making sure each new guest becomes a permanent one. Our gift shop's selection has something for everyone:
Baby products
Baked good mixes
Bath accessories
Candles
Educational items
Games
Household items
Jams
Jellies and preserves
Jewelry
Maple products
Pet accessories
Savory sauces and mustards
Soaps
Wooden toys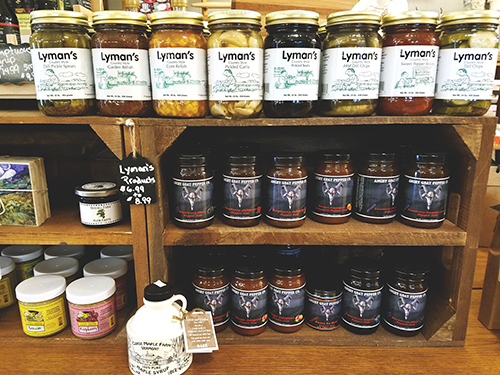 Seasonal Products
During each holiday season, our gift shop offers countless decorative options available for purchase that are not offered during the non-holiday season. Decorate your Christmas tree with one of our handmade ornaments or add a Halloween piece to your front porch. Purchase a piece you won't find anywhere else and when people fawn over it and ask you where it's from, tell them about Bringing You Vermont LLC!
Custom Crafts
Can't find what you're looking for? Our general store crafters can create a custom handmade piece of your choice. Let us know what you have in mind or leave the entire project to us. We're your crafting experts and can guarantee you'll love your custom handmade piece.
Check Out Our Gift Shop!
Whether you're looking to purchase something for yourself or a friend, we guarantee you'll find something you'll love. Stop in and visit us today for gifts or catering services, or shop with us online now!