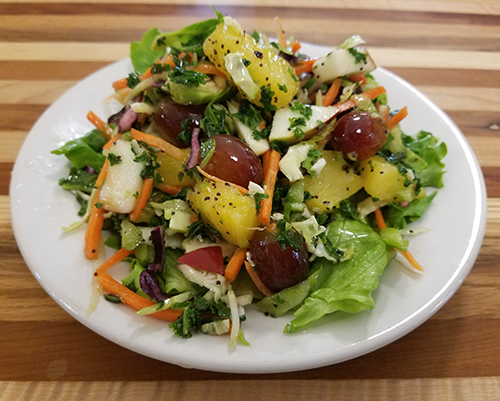 Our café is located in our shop in Bennington, VT. Stop in after purchasing one of our quality goods or bring your friends or family and enjoy all our café has to offer. We have many different sandwiches, coffee, cake and dessert options. Bringing You Vermont LLC is a busy hotspot for morning and daytime gathering of every sort. We welcome everyone to enjoy fresh food made from scratch and served with love!
Whether you're kicking back after a day spent shopping or just catching up with an old friend, we hope you'll find a cozy seat and a welcoming atmosphere at our café.
Food and Drink
We take pride in being your go-to sandwich shop and restaurant in the Bennington, Woodford, Paper Mill Village, and Hoosick, VT area. You can customize any sandwich on our menu and get it served hot. Enjoy a cup of coffee or freshly squeezed lemonade with your sandwich. Hungry for dessert? We also offer an assortment of desserts and cakes to satisfy your sweet tooth.
Sandwiches
Coffee
Cakes
Desserts
With our delicious and affordable menu options, we'll be sure to have you coming back for more! Our intimate and friendly restaurant atmosphere allows our customers to enjoy a cup of coffee with a client, have lunch with a friend or share a piece of dessert with a significant other. Stop into our general store or check out our menu located on our Facebook page.
Allergy-Conscious
In our mission to deliver delicious food, we're always conscious of those with dietary restrictions and allergies. It's why our menu includes vegetarian, vegan and gluten-free options. We also offer nut-free options and guarantee our products are safe for consumption for those who suffer from severe allergies. Let us know prior to your order, so we can prepare your food in an allergy-free area.
Dine at Our Café
Stop into our sandwich shop and restaurant for a bite to eat! We offer a wide variety of sandwiches, coffees, cakes and desserts. We look forward to serving you today. We also offer catering services!